Each member of the Epeius series BGA rework stations is an essential tool for BGA rework. Their different configurations can meet the needs of different customer groups; their accurate optical positioning system ensure that component pins are in alignment with the welding pads. Three temperature zones are independently controlled in a fully programmable way. Its K-type thermocouple input ensures accurate thermal analysis.
BGA Rework Station Pro-650
Pro-650
Pro-650 is the most popular BGA rework station with touchscreen control, 3 individual zone, 6 bottom heater with height adjustable, programmable up/bottom heating, 50X high resolution camera system, 3 thermcouple for real-time profiling.
High-definition optical alignment system(50X).
Manual X- and Y-axis optics positioning.
Automated Z-axis for removal, placement, soldering.
Micrometer-adjust X-, Y-, and Ø-axis lead-to-pad alignment.
Three thermocouple inputs.
380*290mm IR Bottom heater.
LED Rewrok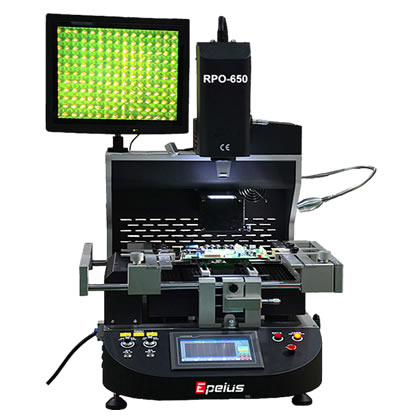 BGA specification send us your parts sample.